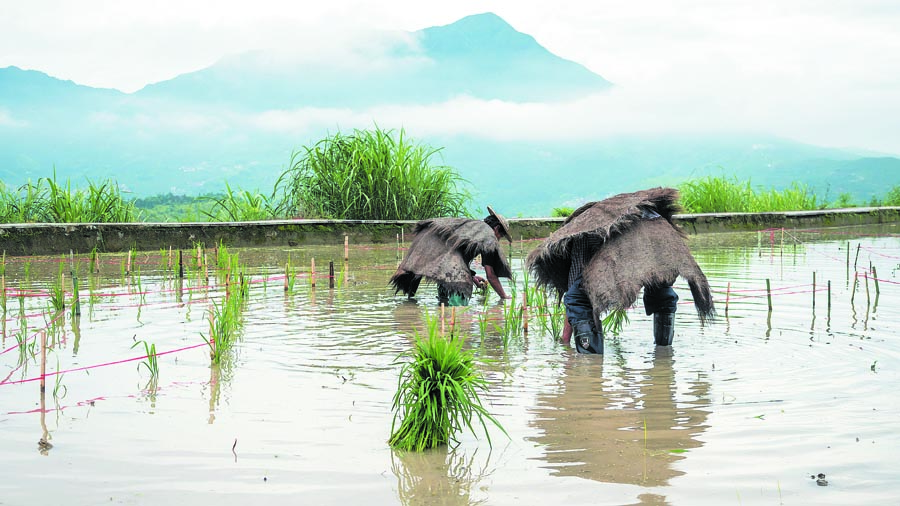 Farmers in Qingtian county, Zhejiang province plant rice in the paddy fields.[Photo provided to China Daily]
Long history of aqua-farming hooks villages to a greater income, Ma Zhenhuan reports in Hangzhou.
Wu Lizhen used to make a living by fishing along with her husband in Longxian village, Lishui, East China's Zhejiang province. The villagers relied on their catch to eke out a living in the past.
But Wu's life began to take a major turn on the road to progress in June 2005, when she was selected to represent the fishermen and women of Fangshan township in Qingtian county, where the village is, at an expert seminar of the UN's Food and Agriculture Organization (FAO).
Then, she started to receive training and support, and began a project in which she planted rice, raised fish, and made delicious dishes to attract tourists.
A few years later, this model based on rice-fish farming provides Wu's family a good, stable income on top of income from the yields. Her business income annually now is more than 1 million yuan ($150,000).
"I came back from France and worked as a farmer for 15 years," says Jin Yuepin, chairman of Zhejiang Fangyuan Ecological Agriculture Development Co Ltd, who received a Model Farmers award by the FAO in 2014 for his contribution to producing safe and green fish food, increasing villagers' incomes, and inheriting traditional agriculture.